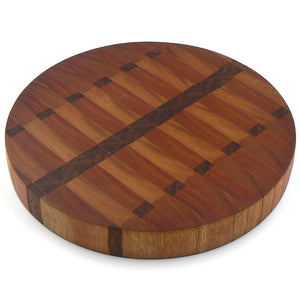 Round End-Grain Chopping Board in a variety of hardwoods
Sturdy kitchen cutting board in a variety of hardwoods end-grain multi patterned design. Comes with care instructions to keep your board in top condition for years to come. Properly cared for, a solid wood chopping board can last a lifetime.
All our products are handcrafted in North West Leicestershire from beautiful natural wood. Each piece is completely unique in design and benefits from the integral warmth and robust characteristics of woods from all around the world.
Size: 250x250x35mm
Weight: 1.0kg
Wood: various